[ Thursday, April 28, 2005 ]
Here's a little souvenir from my trip last week to an alternate universe: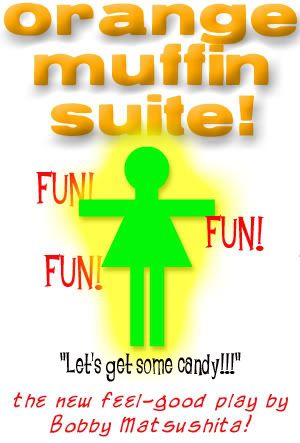 More to come. That "Bobby Matsushita" is really successful, over there!
posted by Rob on 5:52 PM | link

--------------------
6 Comments:
This may be the most disturbing Matsushita play yet!
bobby matsushita...he's one of those young republican playwrights...he always writes shiny, happy, non-violent shows...i hear he's a favorite of our president for life LORD BUSH...
That's just sick! -- you are one twisted man, Matsushita!
I was privileged to be in one of Bobby's earlier shows, "Meeting Jesse Helms," all about a dedicated gang of neo-conservative college students who get to meet their idol after torching their college's Democratic Youth headquarters. It was an inspiring piece of Americana!
I SAW that!

Much better than your tripe, Rob.

And it's not all political like yours are, it was all religious and very PC with no violence and certainly no one killing anyone at the NRA...

I hear that Comrade Bush is a fan...
So first John Kovalic has his characters go to an alternate universe and now you claim to. You're both in Madison.
What the hell is going on?? Has the whole city gone mad?